What you can expect to learn from our Online Classes: Dans 3 Strategy 2021 Trading Plan featuring the new Double Long Diagonal trading system!
Class Description: Dan Sheridan has been teaching Risk Management techniques for many years, that he learned in the Pits at the Chicago Board Options Exchange. Join our 3-week Live Teaching Class focused on making and implementing a 2021 Trading Plan.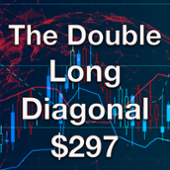 Dan and Mark will be sharing the newly created Double Long Diagonal System. This "DLD" gives much more price protection against big moves. Work with Dan and Mark to implement this strategy into your 2021 Trading Plan! Each class will have a live trade for illustrative purposes, and Dan will follow up each live trade the next class to discuss Risk Management and adjustments.
Trade Focus of this class: Dan and Mark will focus on a newly created Long Vega strategy from within the Sheridan Community, The "DLD". Dan and Mark will also look to integrate; Calendar and Butterfly trades that compliment the "DLD".
Class Format: This is an OnDemand 3 week class. Once a student purchases a course, an email is then sent, containing login credentials to access the archived class page. Purchasing access to a class gives at least 6 months of access to all recordings, as well as trade updates, PDF's and PowerPoints.
What You'll Learn In DANS 3 STRATEGY 2021 TRADING PLAN FEATURING THE NEW "DLD TRADING SYSTEM"?
On-Demand
Each Session will be around an hour in length.
Each event will be recorded and archive for your review.
Each event will have a PDF of presentation slides, if used.
More courses from the same author: Dan Sheridan
DELIVERY POLICY:
When will I receive my course?
You will receive a link to download your course immediately or within 1 to 21 days. It depends on the product you buy, so please read the short description of the product carefully before making a purchase.
How is my course delivered?
We share courses through Google Drive, so once your order is complete, you'll receive an invitation to view the course in your email.
To avoid any delay in delivery, please provide an Gmail and enter your email address correctly in the Checkout Page.
In case you submit a wrong email address, please contact us to resend the course to the correct email.
How do I check status of my order?
Please log in to TradingAZ account then go to Order Page. You will find all your orders includes number, date, status and total price.
If the status is Processing: Your course is being uploaded. Please be patient and wait for us to complete your order. If your order has multiple courses and one of them has not been updated with the download link, the status of the order is also Processing.
If the status is Completed: Your course is ready for immediate download. Click "VIEW" to view details and download the course.
Where can I find my course?
Once your order is complete, a link to download the course will automatically be sent to your email.
You can also get the download link by logging into your TradingAZ account then going to Downloads Page.