How many traders have you seen who make consistent income from stock markets every month? Well, most of you wouldn't have seen any. But still, trading in financial markets is one of the most lucrative business over the years. The reason is simple, once you learn how to do it no one can stop you from becoming the next stock market millionaire. But unfortunately, people spend a lot of time and money and reach nowhere. And finally, they QUIT!
Let's accept the fact that in order to get an edge in this extremely competitive environment, you need to do something different. Having a firm grasp of technical analysis or chart reading is not enough, this age of super computers has introduced algorithms, machine learning and artificial intelligence in the financial markets. With the help of technology, even amateurs can make an absolute killing on the stock market.
In this course, you will learn how to build a professional algorithmic trading system using Amibroker. The course is designed in a Do it Yourself (DIY) fashion where you can follow step by step instructions and create your own profitable system.
For those who don't know about algorithmic trading, the idea behind it is quite simple. An advanced computer program (known as an algorithm) monitors stock prices and signals trading opportunities based on the rules defined. Previously, buying and selling stocks required you to either constantly monitor stock prices and keep an eye out for new stocks, or hire someone to do it for you. Algorithmic trading allows you to take all the hassle out of buying and selling stocks, you can just sit back and let the computer program do 90% of the work for you. It's that simple.
Amibroker software is a market leader when it comes to designing and creating trading systems. Its robust set of features and extremely powerful backtesting engine can help you do wonders. Although this course is designed specifically for Amibroker users, yet you can apply the same concepts in any other software too.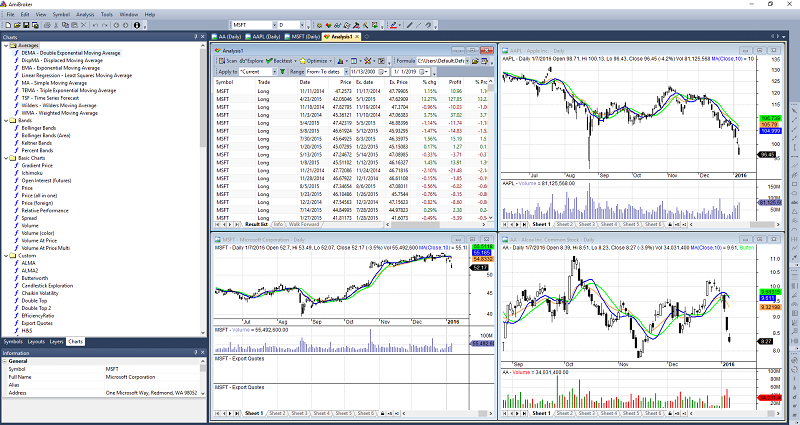 What You'll Learn In Build a Professional Trading System using Amibroker?
Fundamentals of algorithmic trading system
Methodology of trading system design
Installing and importing data into Amibroker
Steps to create a trading system in Amibroker
Backtesting your trading system in Amibroker and analyze backtest results
Optimizing trading system
Risk management and position sizing
Monte Carlo simulation and Walk forward optimization
Creating Explorations in Amibroker
Automating the entire stuff
Readymade trading system AFL codes with a video walkthrough
And many more interesting things. Check out the course curriculum for details.
Who is Build a Professional Trading System using Amibroker for?
Stock market Traders
Stock market Learners
Finance Students
Technical Analysts
Algorithmic/Quant Traders
High-frequency traders
Forex traders
Commodity traders
Trading system programmers
More courses from the same author: Marwood Research
DELIVERY POLICY:
When will I receive my course?
You will receive a link to download your course immediately or within 1 to 21 days. It depends on the product you buy, so please read the short description of the product carefully before making a purchase.
How is my course delivered?
We share courses through Google Drive, so once your order is complete, you'll receive an invitation to view the course in your email.
To avoid any delay in delivery, please provide an Gmail and enter your email address correctly in the Checkout Page.
In case you submit a wrong email address, please contact us to resend the course to the correct email.
How do I check status of my order?
Please log in to TradingAZ account then go to Order Page. You will find all your orders includes number, date, status and total price.
If the status is Processing: Your course is being uploaded. Please be patient and wait for us to complete your order. If your order has multiple courses and one of them has not been updated with the download link, the status of the order is also Processing.
If the status is Completed: Your course is ready for immediate download. Click "VIEW" to view details and download the course.
Where can I find my course?
Once your order is complete, a link to download the course will automatically be sent to your email.
You can also get the download link by logging into your TradingAZ account then going to Downloads Page.