Here is a course on Trend following which brings you a step by step approach in gaining expertise towards trend following and systematic trend following systems with proper risk management and position sizing.
It is a in-depth 8 hour training session to gain deep expertise in trend following models.
What You'll Learn In Practical Approach to Trend Following?
Module 1
What is Trend Following
Understanding Market Participants
What Moves the Markets?
Trending Phase Vs Consolidation Phase
Which Timeframe to Trade?
Types of Trends
Accumulation/Distribution Vs Domination
Most Common Trend Follow Approach by Traders
Module 2
Law of Large Numbers
Gamblers Fallacy
Diffusion of Innovation Theory
Equity Curve and Drawdown
Stop loss vs Trend Following.
Short Term Vs Long Term Trend Following
Module 3
Kelly Criterion
How to Backtest in Amibroker
Metrics to measure the performance of Trend Following Systems.
Q&A Session
Module 4
Building a Trend following Trading System using Amibroker.
How to Design Entry Points.
How to Design Exit Points.
Position Sizing & Risk Management
How to validate Trend Following ideas.
Metrics to measure the performance of Trend Following Systems.
Module 5
Multi timeframe Trend Following Systems
Stock Selection in Trend Following Trading Systems
Leverage Vs Trend Following
Emotional difficulties in Trend following
Trend-following Vs Capital requirements
Best Trend Following Practices
About Instructor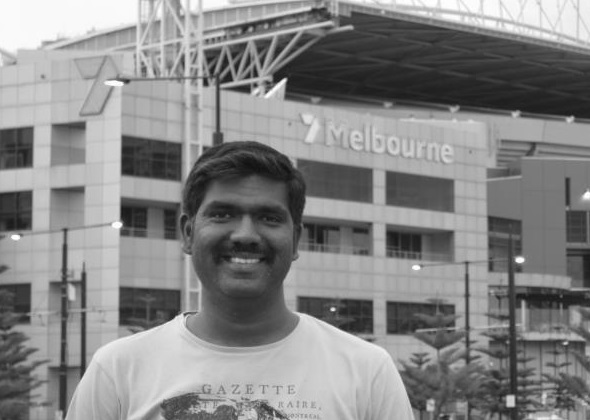 Rajandran is a Full time trader and founder of Marketcalls & Co-Founder of Traderscafe, trades mostly using discretionary Trading Concepts like Market Profile, Orderflow, Trading sentimental analysis, building timing models, algorithmic trading models.
Now he instructs professional traders, full time traders & aspiring full time traders.
Rajandran attended college in the Chennai where he earned a BE in Electronics and Communications.
Rajandran has a broad understanding of trading softwares like Amibroker, Ninjatrader, Esignal, Metastock, Motivewave, Market Analyst(Optuma),Metatrader,Tradingivew,Python and understands individual needs of traders and investors utilizing a wide range of methodologies.
More courses from the same author: Rajandran R
DELIVERY POLICY:
When will I receive my course?
You will receive a link to download your course immediately or within 1 to 21 days. It depends on the product you buy, so please read the short description of the product carefully before making a purchase.
How is my course delivered?
We share courses through Google Drive, so once your order is complete, you'll receive an invitation to view the course in your email.
To avoid any delay in delivery, please provide an Gmail and enter your email address correctly in the Checkout Page.
In case you submit a wrong email address, please contact us to resend the course to the correct email.
How do I check status of my order?
Please log in to TradingAZ account then go to Order Page. You will find all your orders includes number, date, status and total price.
If the status is Processing: Your course is being uploaded. Please be patient and wait for us to complete your order. If your order has multiple courses and one of them has not been updated with the download link, the status of the order is also Processing.
If the status is Completed: Your course is ready for immediate download. Click "VIEW" to view details and download the course.
Where can I find my course?
Once your order is complete, a link to download the course will automatically be sent to your email.
You can also get the download link by logging into your TradingAZ account then going to Downloads Page.